Written by Sharing Sustainable Solutions
When it comes to windows, many homeowners only think about making changes to the aesthetics. Few people realize window insulation plays a major role in your home's comfort and energy efficiency, and could be costing you hundred of dollars each year.

In the summer, windows let in light and heat that keeps the air conditioning running, and in the winter warm air escapes out of windows, creating a year-round drain on your energy bills. In total, US Department of Energy estimates windows cause $35 billion dollars in annual energy loss.1
While replacing windows may seem like a logical solution, it can cost thousands of dollars. Fortunately, for most people there's smaller changes that can be made to keep outside air from entering their home and running up heating and cooling costs.
Home maintenance expensive enough without high utility costs, so we've put together this guide to help you save on your energy bills. For most, it's as simple as assessing the windows in your home and completing a few DIY tasks. But some homes require more complex work on windows to bring them to energy efficient status, in which case we've also included some tips on how to hire a window professional
Window Styles: What You Need to Know
It's important to know a few things about windows before you can begin any project. First, windows can be made from several different types of material, and this will determine some of your options. Here are four of the most popular options:2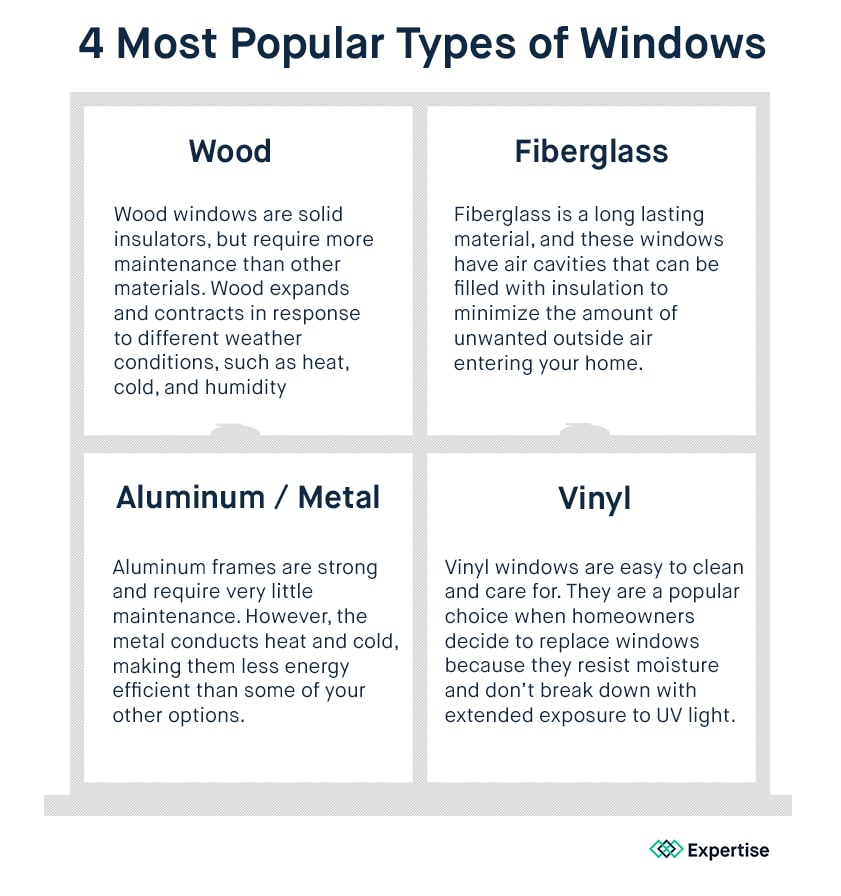 In addition to window materials, you should know the different window design options you have. If you plan on swapping out your windows for new ones that are exactly the same, style doesn't matter. But if you're looking for a change in design, you have plenty of choices.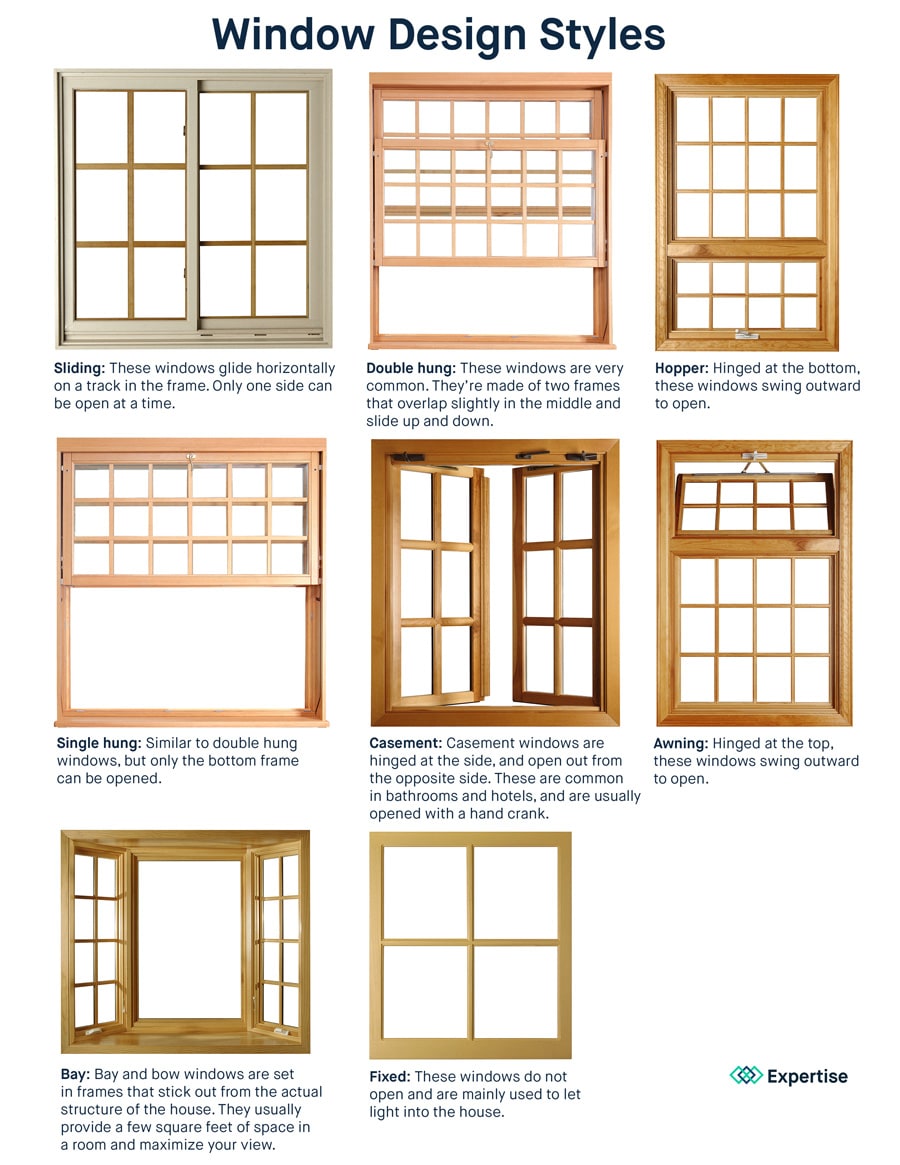 If you live in a HOA community, make sure your new windows are compliant before making any changes. If you live in a historic home, you may not be allowed to replace your windows, so do some research beforehand to be sure you'll be able to complete your project as planned.
Not sure if it's time to treat your windows? Look for these signs:2
Condensation buildup in winter
Moldy or decaying wood
Sagging windows
Noticeable temperature difference in front of window
Rattling windows when the wind blows
A full replacement is often best left for a professional, but there are many improvements you can do yourself to minimize the amount of energy lost through your windows. Let's get started!
Use caulk and weather stripping
Caulking and weather stripping can be a simple weekend project. Fill in stationary cracks, gaps, and joints with caulk. Use weather stripping to insulated parts of the window that move.  All you need is caulk and a caulk gun, which shouldn't cost more than $5-10.
Use plastic window insulation film
Covering your windows with plastic can reduce the amount of heat lost during the cooler months. Plastic window film can be purchased at any major hardware store. The directions are simple and all you need is a hair dryer to ensure a strong seal. Clear plastic window insulation film usually costs less than $10 per box.
Install window treatments and coverings
Awnings, blinds, drapes, and curtains can dramatically improve your windows' insulation. Awnings go on the outside of your home to provide shade to the window. You can find metal, wood, and acrylic awnings that provide up to 77% protection from solar heat gain.
Blinds are a more effective options for protecting against heat gain. They can help reduce heat gain by up to 45%. Medium colored drapes that aren't too light or dark and have plastic backings can also impact both heat gain and heat loss. To maximize their efficiency, hang drapes as close to the window as possible.3
Research new window options
While you may not be able to install them yourself, you can learn more about the best options for replacement windows. This will also help you have a better idea of how much you should expect to pay for a professional installation. The National Fenestration Rating Council labels new windows with energy efficiency information. Check out the National Fenestration Rating Council's website to learn how to decode the new labels in your search for the best window option for you.
Projects for Window Installation Professionals
Once you've exhausted the DIY projects you're comfortable with, it's time to call in a window expert. Window installations and replacements are possible DIY projects if you're very handy, but you're more likely to run into problems of improper installation when you do it yourself . Here are two window projects that will improve your home's energy efficiency the most:
Install storm windows: Storm windows allow you to add onto your existing windows, rather than replace them completely. Storm windows can be installed inside or outside and add a second layer of material to the frame, reducing air movement and energy costs. Storm windows can be made from plastic or laminated glass, and are usually much less expensive than a complete window replacement.4
Replace windows: If you have old windows, it's likely they have single-pane glass, which is a very poor insulator. Most new windows are double or triple-pane, which consists of multiple sheets of glass separated by spacer bars and sealed on all four sides to create a dead airspace between the panes. New windows may also contain a special low E coating or argon, krypton or xenon gas injected between the panes to increase their energy efficiency and ability to block out  ultraviolet rays. Dual and triple pane glass can also help insulate your home from outside noise.
Using a professional window installer means the job will be done correctly the first time. Professionals can also look at other areas of your home, such as your doors and siding, to let you know how well insulated the entire structure is. According to Remodeling Magazine's 2015 Cost vs. Value report, replacing 10 x  3-by-5-foot windows with insulated wood replacements costs about $11,000. While this is an expensive project, windows rarely need to be replaced, and homeowners recoup close to 80% of the cost of replacement when they sell. 5
** Warning **  Become very familiar with water-proofing techniques around windows when they are replaced or installed in new construction. If done incorrectly, you will have moisture intrusion that can create dry rot, mold and water leaks into the house which may take years to manifest and be very expensive to repair.
How to Hire a Window Installation Professional
In some homes, windows are in such poor condition the only effective resolution is a full replacement. If that's the case, you might want to hire a professional to help you choose the right product ensure a safe window installation. Here are a few tips to understand how to hire  the right person for window project:
Ask friends and neighbors for recommendations and search online to create a list of potential businesses to hire.
Compare reviews and work history. Filter out any businesses with overwhelmingly negative reviews, or that are out of your price range.
Get quotes, time of work estimates, and check availability.
Check for certifications, licenses, and work insurance. In case something happens during your home project, you want to make sure everyone working on your house is properly insured and qualified.
For more expert hiring tips, check out our guide to hiring home remodelers.
Conclusion
Windows play an important role in your home's comfort and energy efficiency. While replacing your window will provide the most total energy savings, there are many smaller improvements you can make that have a lower overall cost.
Be sure to take advantage of your DIY options to help you seal up and insulate your windows to minimize energy loss and costs. If you find that your own handiwork isn't enough, don't be afraid to reach out and consult a professional. You'll save energy, money, and remove those pesky drafts from your home.
Sources