Written & Spoken by Sacha Stone
Hundreds of NewEarth brothers and sisters gathered on Saturday, December 3rd in Bali at the NewEarth Haven outside Ubud to join voices in solidarity with those noble souls gathered at Standing Rock in the plains of North America.
The Solidarity Gala was officiated by Balinese High Priestess Ida Resi and Sacha Stone.  Chief Justice Ted Strong, representing the Navaho, Lakota and Dakota nations, spoke via video-link to all those gathered, following presentation of a new series of short films on the critical issues behind Standing Rock.  High Priestess Ida Resi led a prayerful meditation and gave a blessing.
Within 48 hours the pipeline drilling had been ordered to stop, and Ted Strong sent this message of gratitude on Monday, December 5th:
"Brother Sacha,
The most universal greeting is A-Ho, meaning "it is good" or "thank you".
Our prayers won the victory.  Humanitad (NewEarth) and Bali pushed us over the top.
Love conquered hatred.
Divine Creator blessed us.
Ted"
Please enjoy and share this video of the evening's events.
The issues at stake which we are all blessed to be witnessing at Standing Rock affect every man, woman and child on earth, whether we know it or not, whether we see it or not. The noble truth-warriors who are standing on the front-line are doing so in the full knowledge that if the corporation barons who are raping the womb of Gaia get away with their criminal actions today, it will spell catastrophe for people and planet in the days ahead.
These brave truth-warriors, mainly from amongst the first-nations peoples of the great plains of North America, are self-confessed Protectors and not protestors. Even if they were simply protesting, is there not a duty-of-care for all people to protest against tyranny and travesty? Is it not the responsibility of awakened souls and concerned citizens to take issue with the insane actions of sociopaths posturing as our leaders and taking unilateral decisions which destroy our environment and eviscerate our civil-liberties? Or was democracy all a great deception……? Do not feel compelled to answer that question, because by now, we are all becoming aware of this, the greatest socio-political deception in modern history.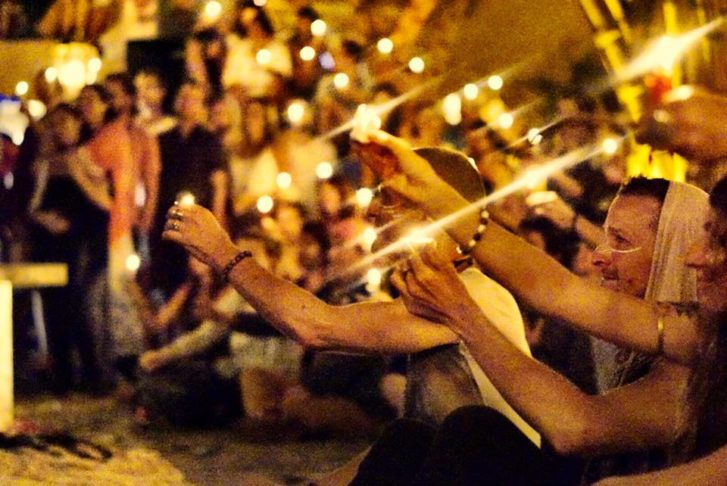 At times like these we should remember that living men and women of the living soil do not require 'human-rights'. We are born with a universal right to flourish and prosper upon the surface of our living planet. Any bureaucracy which violates living men and women, and which itself has only been dreamt up by arcane priesthoods or vested interests, is a fiction which needs to stand-down and enter dissolution, before the people awaken fully and pick up sticks and stones.
The Protectors at Standing Rock come together in vast numbers today in full alignment with ancient prophecy, and are pitting themselves against the the badges, the guns, the tanks and the witless actions of men and women in costume who blindly follow orders which issue from criminal conspirators. Conspirators who have usurped the corridors-of-power in pursuit of profit. Conspirators who abrogate and derogate all treaties and the natural justice which is supposed to be the cornerstone of our civilisation. Conspirators who are wilfully committing treason and fraud against the true sovereign, which has always been the living men and women of the living soil.
The Standing Rock meme is one which invites each soul to now draw their own line in the sand. It invites us to step outside of fictitious lives governed by fictitious statutes, codes, ordinances and the spell-binding engineered by corporations masquerading as governments.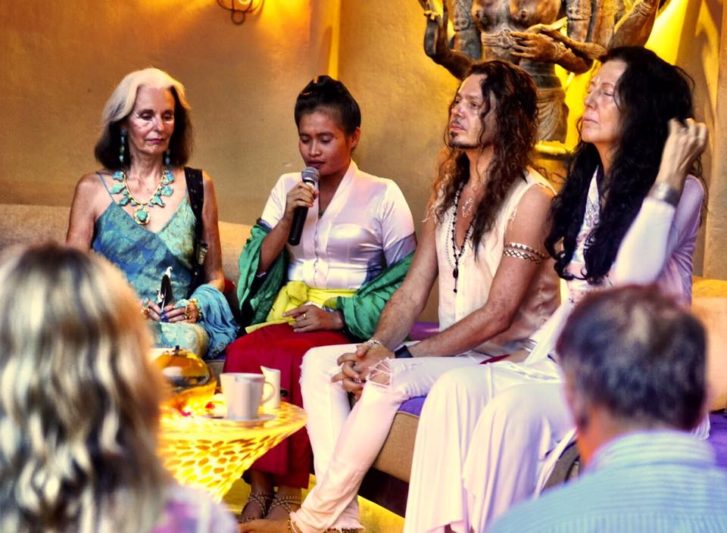 People of the world do not need to ask permission from any imposed authority so long as they remain in honour. Rather it is institutions of the world. Governments of the world and the little grey people who promulgate these vast fictions, who need to take stock, and recognise that people of the living soil will no longer be railed and manipulated into complicity with the evils of profit and of power.
We are grateful to the hundreds of people in Bali who have gathered at NewEarth Haven in solidarity with our brothers and sisters at Standing Rock. We are grateful to Balinese High Priestess Ida Resi for her blessings and to the video-link message from Chief Justice Ted Strong representing the great Navaho, Lakota and Dakota nations of the great plains of North America".
Sacha Stone