(Aligned with the NewEarth University as an enlightening affiliate)
NewEarth University (NEU), the worldwide learning arm of the NewEarth Project, is delighted to announce a fresh affiliation with an extraordinary group of wisdom-keepers—women and men sharing their heart-centered expertise in the sacred arenas of conscious love and sexuality.
Let's face it dear reader: The world needs more love! with a healthy, balanced approach to mindful sexuality.
The online University of Love & Sexuality (ULS) is born of ten world-class teachers teaching about conscious love and sexuality.  The founder of ULS, Stephen Burford, brought together these exemplar instructors to focus on various related topics that are so important in establishing, nurturing, and bolstering successful and loving relationships of all kinds.  ULS currently has association with NewEarth University's School of Consciousness & Spirituality, and its School of Health & Wellness.
Complimentary mini-class videos are available at the NEU portal under the Courses Menu: https://newearth.university/courses/ with opportunity for more advanced study in curriculum designed by these devoted and skilled guides of love and sexuality.
Of course, all of the love & sexuality subjects presented in ULS curriculum emphasize the (S)elf.  Essential topics covered are:
How To Love Yourself Fully
How To Heal The Past
Emotional Mastery
Communication & Awareness
Understanding The Masculine
Understanding The Feminine
How To Embody Unconditional Love
Create A Vision Of The Future
Sexuality & Intimacy
There is a core belief at ULS that once you master these nine areas, you master yourSelf.  This is a journey for life, not just for a few weeks.  Join this journey and acquire key tools for your transformation.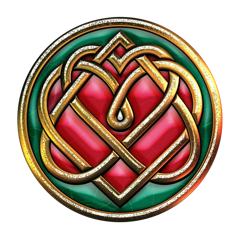 About the ULS logo: "When two or more gather in my name I shall be present."  The trinity is a basic component of many spiritual and esoteric practices.  The three hearts represent the Love of the individuals creating a greater conscious presence of Universal Love.  In this heart, at the center, is the drop that represents the mixing of both celestial white light and the earthly red light shown as the color pink with the green color of the heart chakra.  This drop is used in visualizations of the 3rd eye to bring about the manifestation of one's Buddha Nature: "Visualize the Buddha… become the Buddha…"  The circle represents the unbroken chain of truth, change, unity and perfection.  It also has the meaning of 'heaven' in Chinese symbolism (round heaven, square earth).
"We are one whether we want to accept it or not. As we learn to work together in love, the limits of our expression recede and we become what we have always been.  As children of the universe we can dance and celebrate this forever in our ever changing guises and expressions.  Honoring our deepest nature within and without."

~ Seth Rowanwood (designer of the ULS logo)
If you would like to experience more radiant love and healthy sexuality in your life… more vibrancy and sacredness while cultivating all of your relationships, then you are invited to explore this further.