Written by Sacha Stone, founder of the International Tribunal for Natural Justice – the ITNJ https://www.itnj.org/
Australian Foreign Minister Bishop has expressed her support for the ITNJ's Judicial Commission of Inquiry into Human Trafficking and Child Sex Abuse which launches in London, England in Spring 2018, stating: "I wish the Tribunal well as it launches its Judicial Commission of Inquiry into Human Trafficking and Child Sex Abuse."
We have many parliamentarians and congress (wo)men from different nations joining us and putting their names and voices toward this historic endeavour.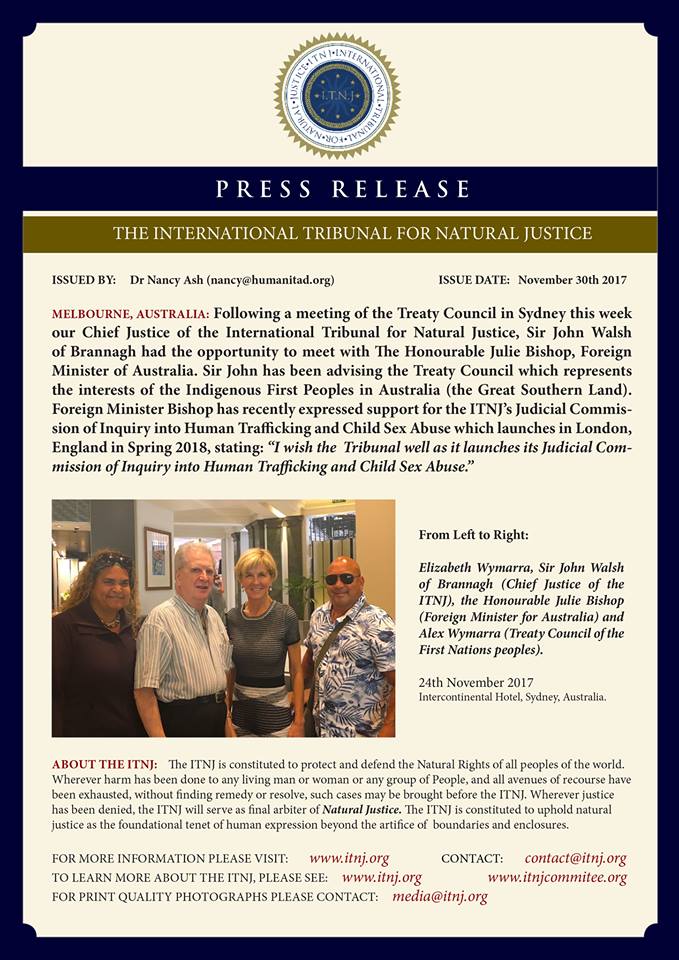 The Inaugural seating of the ITNJ's Judicial Commission of Inquiry into Human-Trafficking & Child Sex Abuse takes place in London, England on April 16-18th 2018.
* PLEASE VOLUNTEER AND/OR SPREAD THE WORD AND SHARE! *
Anyone wishing to volunteer to join our international team and help coordinate this virtual (and in-situ) Commission of Inquiry please email us at [email protected] and let us know how you feel you might assist.
We need urgent assistance with orchestrating and running the crowd-funding campaign as well as logistical support helping to administer the weekly online events which will launch in March 2018 and run for between 9-12 months.
Video: ITNJ Milestones | 2018 Commission of Inquiry
Let Right Be Done
(Sacha Stone)