Several days ago, toward the end of the matching process spoken about in the previous post, much had come up for both of us – for Gabriela, a spiralling sense of torment surrounding an issue which seemed be the result of an experience we had had (or rather not had) the previous day, and for me, a similar and equally spiralling sense of torment around a different yet equally profound experience. As we delved deep into the root of these happenings it soon became clear that we were each fabricating our own torment as a result of the same unmet need – the need to live together, actually the need to have each other all the time without any limitation, but living together would do for now!
So we decided, since we had both long since made the commitment to honour this love above all other things as the foundation for all else, that we would manifest ourselves the ideal living environment. The place would need to be sufficient in size to accommodate both of our full families, with enough space for everyone to feel like they were not on top of one another; it would need to be befitting of the 'regal' feeling that now very much typifies our lives; and it would need to be available to us for no more money than we were paying for the two houses we were each renting at present – a tall order! Especially since we had already scoured Vilcabamba, knowing now pretty much every house available in this small town, and aware of nothing that fitted the bill… We also set the intention to manifest some additional income with which to make our lofty vision a reality.
The next day we received a reply from an enquiry we had made into a house in a very nice centrally located gated community. We went to visit the owner (who also happened to be the most influential 'old-family' patriarch and the most prolific landowner in town). After seeing all the houses he had available, it turned out that he didn't have anything suitable for us, but as we were about to leave he said "there is just one more thing I have, but I'm not sure it would work – it's not actually even a house…"
The sense arose immediately, before having any idea what it even was, that it was exactly what we were after so, despite the doubts he expressed, we pushed to take a look. It was a very well appointed yet abandoned building that had previously played host to the most successful restaurant in town before closing its doors over a year ago. The main (somewhat regal!) dining area was a 100m2 open plan space which would serve delightfully as a central living area. There was a ready to go commercial kitchen below which opened onto a delightful courtyard enclosing two good sized outdoor patio/seating areas, a world-class brick pizza oven, bar, water fountain and nicely appointed toilets.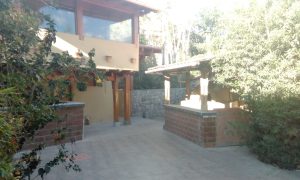 To the other side of the rather grand entrance was a three storey tower which had previously been used as a library and would easily house two spacious bedrooms. Two further toilets served this area. The place was perfect – my daughter had dreamt of living in a princess tower and now she would have one! There was just one problem though – there was no proper bathroom – no bath, no shower…We called the owner to come meet us and discuss possibilities, and when we relayed the bathroom issue he remembered that there was also a brand new, completed and unused spa facility hidden in a bamboo grove just 5 metres from the tower which had all that we would need! The place was epic!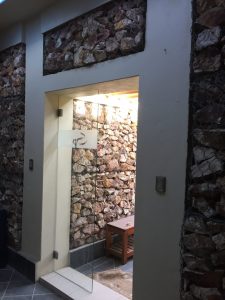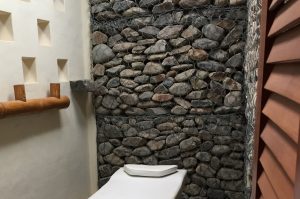 As we returned to the main space, we realised that our second manifestation of having more income was also being offered to us – aside from the obvious potential of the walk-in spa facility, Stefan, Gabriela's husband, is a professional chef and very much chomping at the bit to get his teeth stuck into something… and we had a commercial kitchen and all the excess space, that we didn't even begin to need for our personal needs, in which to create some kind of cafe-style business. As the vision unfolded, we realised that it was actually the perfect scenario and location to house the first NewEarth Cafe – a model development long-since envisioned by our core team as a way of galvanising energy around the NewEarth movement in more densely populated areas.
Having been empty for over a year, the owner was more than happy to accept the modest rent we were offering FOR EVERYTHING. And so we decided to take it there and then.
By the time we left, less than 16 hours had passed since we had set the intention to manifest the place of our dreams, and now we were not only looking at moving into the place as a home, but had also secured the perfect location for the first NewEarth venue in Ecuador! And the funding to make it a reality seems to be lining up just as easily!
So, I can only really sign off as I have done with so many of these recent blog posts… by saying – watch this space!