Written by Magda Freedom Rod, Faculty, New Earth University, School of Health & Wellness
If you've decided for any reason that you want to limit or eliminate coffee from your diet, this alternative may be for you. There's an endless debate about whether coffee is good or bad for your health. I'll leave it up to you to weigh the pros and cons. Some years back, I used to drink a pot of coffee in the morning. Personally, I've since decided to drop it from my diet for its acidifying and dehydrating effect on my body, not to mention the jitters and subsequent crash I would experience from all the caffeine. I loved the taste and energy that coffee gave me, which left me with looking for a replacement for my morning drink. I tell my clients that optimum health isn't about deprivation, but about healthier alternatives. So what's the solution? What hot beverage can I start my day with that tastes great and gives me the energy I want?
Here's a recipe I've developed that is working really well for me. Give it a try and let me know how it works for you!
Morning Mojo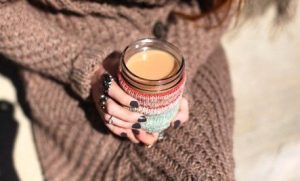 Ingredients
1 Tbsp Dandyblend (click on this link to learn the multitude of health benefits to this little-known product). If you can't  get it in your local health food store, you can usually find it on Ebay.
1 Tbsp Raw Cacao Powder (optional: this gives the beverage a mocha flavor, and the cacao adds a little bit of caffeine which contributes to mental alertness. Cacao also contains antioxidants, magnesium and iron)
1 Tsp Raw Maca Powder (maca is an adaptogen and it also energizes naturally, without the jitters and crashes of caffeine)
12oz Boiling Water
Stevia to Taste (optional-see below)*
2 Tbsp Raw Hemp Seeds (optional-see below)**
Herbs or Supplements of Choice (optional)
I add the following supplements to this mix: Evening Primrose Oil (I just puncture and empty the capsule into it), Milk Thistle (for liver support), adrenal support herbs for stress relief. If I have it on hand, I'll often add flax oil as well. Anything you add will of course alter the taste, so experiment here, add what works for you. Sometimes I'll add a few sprinkles of cinnamon and a cardamom seed, too. This is a good way to get some of your daily supplements, especially if you don't love taking a bunch of pills.
Directions
Blend all the ingredients well, ideally using a high speed blender. If you are adding oils, like flax oil or evening primrose, blending is more important so the drink doesn't develop a sludge at the bottom of your cup. I usually pour mine into a mason jar and cap it for my on-the-go mornings. (For the DIY instructions for the mason jar cozy pictured above, click here.) This is the ultimate sustainable solution, eliminating the waste from those disposable coffee cups.
This recipe can be enjoyed with or without the "cream and sugar." Sweet and creamy is how I like it, so if you're like me, add these.
*Dandyblend is naturally a little sweet, so you need to try this for yourself and sweeten to taste if desired. My sweetener of choice is stevia . Make your own or use organic.
**For the "cream," I blend the recipe above in my vitamix for 1 minute on high with 2 tablespoons of raw hemp seeds. Hemp seeds are high in protein and omega-3s and contain chlorophyl, adding even more nutrition to this recipe. You can find my recipe for hemp milk or cream here.
Originally posted @ Visionary Lifestyle